Business Development Manager - Recruitment & Talent Solutions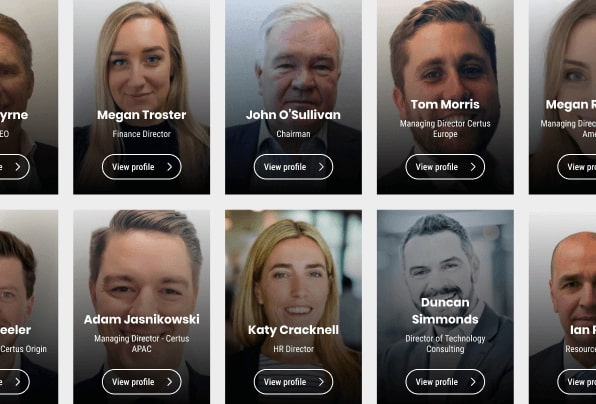 Melbourne
Permanent
Careers at Certus
IPcerBDMn9
09/11/2023
Consultant
Business Development Manager – Recruitment & Talent Solutions
Melbourne, Australia
Negotiable base salary + uncapped commission
Unlimited leave and additional benefits
About Us
Certus Recruitment Group is a specialist recruiter to the Technology sector, helping tech and tech-driven companies grow and scale through the provision of innovative human capital solutions and services on a global scale. Through our network of offices, we service clients across Australasia, North America, and Europe providing world class sales, marketing, and technical talent to the world's most exciting technology businesses.
We're driven by our values: Passion, Energy, Commitment, Integrity, and Fun and these are evident in all that we do. We are a collaborative, results-focused business dedicated to our colleagues, clients, and candidates alike.
Why work for Certus Recruitment?

Following a successful year in our Melbourne office in 2022, and in line with our global growth plans, we are looking to build on our initial success in APAC with the addition of an experienced Business Development Manager, tasked with developing and growing our Sales, Marketing and IT Recruitment offerings across Australia.
Reporting directly to and working closely with the MD of our Australian business, you will be responsible for the sales function for the business, supported by your International and local colleagues. You will have the opportunity to directly influence our product offering and its route to market. You will love being 'hands-on', involved directly with taking our services to market, however, you'll also likely have bigger plans, with the potential and ability to build and lead a larger business development function, building business across the whole of the APAC region.
You may be an experienced sales professional from within the Tech sector or be an accomplished recruiter looking to accelerate your career by taking on a bigger role. You will be someone who craves working in a positive, optimistic, and collaborative environment and will demonstrate a clear desire to be around people most of the time. Unlike a lot of people in the post-Covid world, the idea of working predominantly from home probably fills you with dread!
The Role

This is a strategic position within the business, with considerable scope to shape our Australian business as it evolves. Purely a business development role without responsibility for delivery, you will pass newly won accounts to Client Managers and Delivery Consultants, but you will remain involved in developing those accounts through the building of great client relationships. Specific responsibilities include
Sale of bespoke Recruitment and Talent solutions including retained, contingent, and contract recruitment/staffing services
Managing incoming enquiries and leads generated through marketing activities
Building a solid pipeline of potential business across our target Tech sectors
Networking and building relationships with influencers and decision-makers
Working with marketing partners to build and develop appropriate collateral
Attending exhibitions, conferences, and events within targeted sectors
Account Development, managing key stakeholders in high-volume accounts
Working with International colleagues to develop Global Accounts with opportunities across Australia, New Zealand, and South East Asia
Working closely with Senior Management to shape the future of the Australian business
Analysis and reporting as required
What you will bring
5 plus years proven sales or recruitment/staffing experience, with the natural ability to engage and articulate our services and solutions
Confident in leading meetings, giving presentations to key stakeholders
Dynamic and personable with a professional yet friendly approach
Entrepreneurial and urgent by nature
Confident in the creation and writing of proposals
A love of face-to-face interaction
Credibility and dedication to the achievement of your own personal goals, whatever it takes
Drive, maturity, and commercial awareness
A big personality that fits with our values: Passion, Energy, Commitment, Integrity & Fun
What we offer
Highly competitive package
Unlimited PTO (and we really do mean it!)
Significant opportunity for progression
International travel potential
Quarterly achiever incentives
Yearly incentive trips (most recent include, Vegas, Mexico, Australia & Spain)
Great offices with End of Trip facilities and a gym in a great CBD location
The Certus Recruitment Group is a specialist recruiter to the Technology sector. With offices in London (UK), Melbourne (Australia) and Austin (Texas) we are our client's partner of choice, best placed to support their global growth and expansion.