Sales & Marketing Recruitment Consultant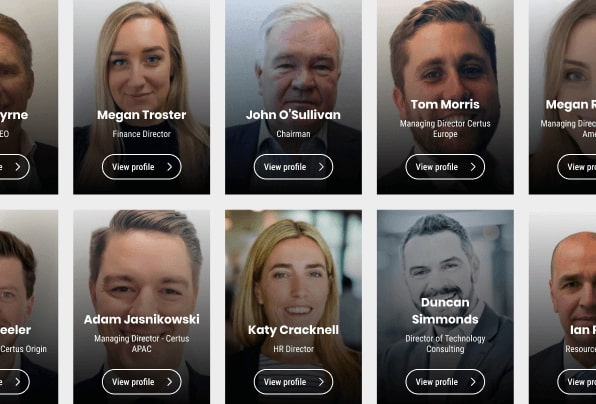 Melbourne
Permanent
Careers at Certus
IPcerSMRC
13/09/2023
Consultant
Sales & Marketing Recruitment Consultant
Melbourne CBD
65-80k Base, 130k+ OTE, + Super + Excellent Benefits
About Us

Certus Recruitment Group is a specialist recruiter to the Technology sector, helping tech and tech-driven companies grow and scale through the provision of innovative human capital solutions and services on a global scale. Through our network of offices, we service clients across Australasia, North America, and Europe providing world-class sales, marketing, and technical talent to the world's most exciting technology businesses.
We're driven by our values: Passion, Energy, Commitment, Integrity, and Fun and these are evident in all that we do. We are a collaborative, results focussed business dedicated to our colleagues, clients, and candidates alike.
Why work for Certus Recruitment?

Following a successful year in our Melbourne office in 2022, and in line with our global growth plans, we are looking to build on our initial success in APAC with the addition of an experienced Recruitment Consultant.
You will be responsible for sales & marketing recruitment across APAC and will benefit from an extensive account base, which will supplement your own business development activities.
You will be an accomplished recruiter looking to accelerate your career by taking on a bigger role. You will be someone who craves working in a positive, optimistic, and collaborative environment and will demonstrate a clear desire to be around people most of the time. Unlike a lot of people in the post-Covid world, the idea of working predominantly from home probably fills you with dread!
The role:
As a senior member of your team, your experience and attitude will set a great example for those around you.
Carry highly achievable personal quotas
Manage the entire process including client acquisition, candidate generation, and the management of the recruitment cycle
You will be hugely influential in the growth of the Australian business
Drive client acquisition and account development
Drive relationship-building and networking
Work collaboratively with clients and colleagues to deliver against large projects
Build your reputation as an expert in your field
Represent the company at industry and networking events
What you will bring:
1-2+ years sales/marketing recruitment experience
Knowledge and understanding of the technology/digital sector
A genuine passion and interest in sales & marketing recruitment
A natural confidence and energy
Pride in everything you do and a desire to be the best
Demonstrable record of achievement
An ethical approach to business
How you will be rewarded:
Competitive basic salary of $65-80k
On Target Earnings of $130k+
Unlimited PTO (and we really do mean it!)
Significant opportunity for progression
International travel potential
Quarterly achiever incentives
Yearly incentive trips (most recent include, Vegas, Mexico, Australia & Spain)
Great offices with End of Trip facilities and gym in great CBD location
Certus Recruitment Australia is a specialist provider of sales, marketing, and IT recruitment services to the business community. Part of the Certus Recruitment Group, we operate throughout Asia Pacific, the UK, Europe, and North America.