Business Development Manager - TechRec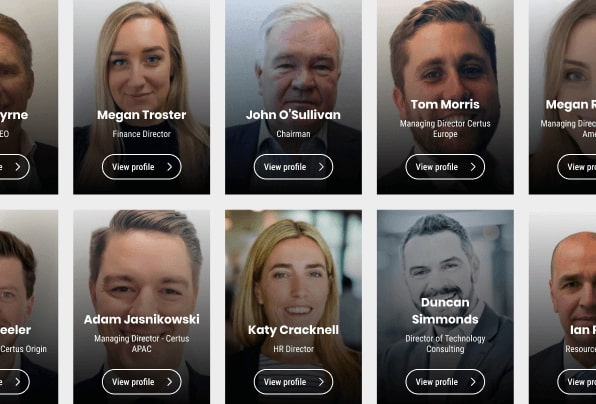 Greater London
Permanent
Careers at Certus
TMbdmUKn8
08/11/2023
Consultant
Business Development Manager – TechRec
London
35-50k Base, uncapped OTE + Great Benefits
We are excited to announce, due to our continued growth within our European office here in London, that we are now looking for a Business Development Manager to come join our dynamic team! We are looking for like-minded people who are ambitious, feed off hitting their targets and, of course, are driven by the achievement of their personal goals.
Certus Recruitment Group is a global provider of specialist recruitment to the Technology sector. We pride ourselves on each of our specialist recruiters working with businesses of all sizes from global 'Superbrands' through to innovative start-ups and everything in between. Every voice counts and each person has an impact, that's why we focus on personal and professional development alongside empowering each individual working to reach their highest potential.
Certus have offices in London, Melbourne, Halifax (Canada), and Austin, Texas. In line with our global growth plans, we are looking to build on our European success with the addition of an experienced business developer, tasked with developing and growing our client base across the Tech sector, selling our range of
sales, marketing, and IT recruitment services
. Our highly collaborative and fun working environment allows us to discover and develop new ways of delivering better human capital solutions to clients across the technology spectrum and our clients truly love what we do!
Our success relies on recruiting and developing great people who are accountable and creative in their approach. Through recruiting great people who bring ideas and experience to the business, we are well poised to gain market share and become the 'Go To' recruiter and staffing partner across the US technology sector.
What you'll do
Reporting to a UK Director, this role is a senior role and thus vital to our European growth plans.
Lead in identifying new business opportunities for the UK and wider EU regions, looking to build out our tech client base.
Build and establish your own sales pipeline from prospecting, and initial meeting through to signing new clients.
Attending networking events and entertaining prospects, building relationships and trust across our desired client base
Negotiate agreements defining key technical and business commitments.
Work with the wider global Certus team to lead the discovery process and help create tailored solutions, relevant to our client's needs which result in new client leads.
Work with our leadership team to help provide market feedback and help shape our propositions and overall offer to the market.
Deliver on agreed targets for new tech clients and conduct research as applicable to identify new opportunities and targets.
Work closely with the UK delivery team to ensure your clients continue to receive exceptional service.
What we are looking for:
A passionate business developer with a strong desire to infiltrate the Tech sector
Experience of developing a robust pipeline of opportunities and the ability to identify, create and deliver creative proposals for talent solutions.
A detailed understanding of the sales process and proven experience building business, ideally with a network of contacts across the UK and wider tech landscape.
Possess the necessary interpersonal and influencing skills to work cross-functionally with leaders in sales, marketing, and technical functions.
Negotiation of contracts to ensure the most commercially advantageous terms.
Robust presentation, sales, and negotiation skills; ability to close high value and high-profile deals.
Strong sense of ownership and bias for action; ability to internalize goals and work independently to create appropriate action plans for those goals.
Solid analytical orientation; comfort using databases and analytical tools and making data-based decisions.
Excellent business judgement and the demonstrated ability to think and act both strategically and tactically.
What you can expect:
Competitive salary with great incentive scheme
Monthly uncapped commission
Further quarterly and annual incentives
Travel incentives – opportunity to experience life in other Certus offices
Unlimited PTO (and we really mean it!).
Pension
Incentives, schemes and more
At Certus we believe that a team of great people will always achieve more than a collection of individuals. Therefore, whilst this role has huge flexibility and we expect the individual to spend lots of time out with potential clients, we also expect that they will want to integrate with our office team and be regularly in the office themselves as necessary, building relationships and sharing both their frustrations and success.
The Certus Recruitment Group is an established and experienced specialist consultancy providing sales, marketing, and IT recruitment services to the business community throughout the UK, Europe, North America, and Asia Pacific Region.