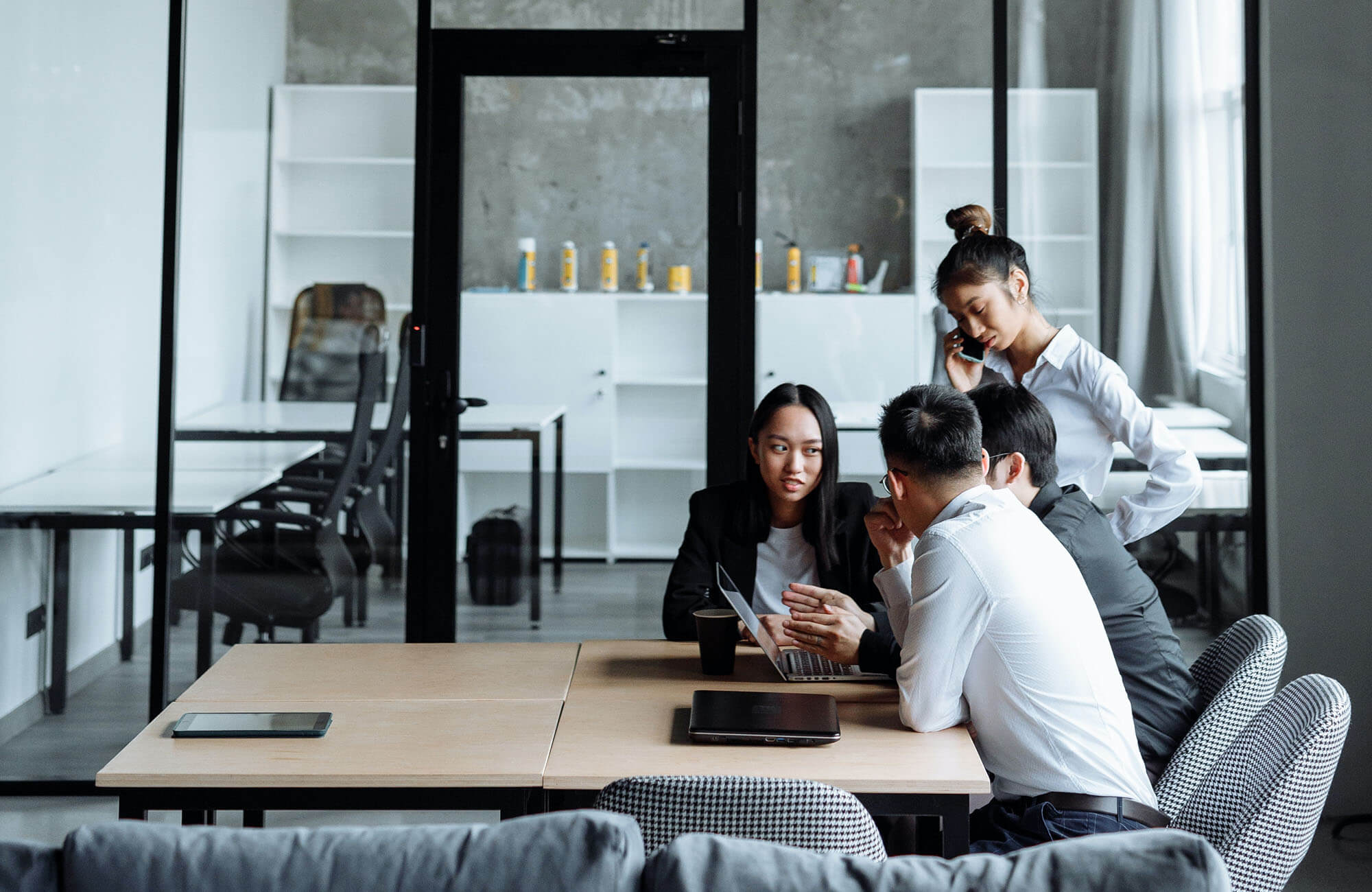 There is no shortage of fantastic recruiters to choose from. There are those that specialize by sector or by function, there are large multi-site high street agencies, global players, and single-site niche businesses. So how do you determine which one will be best to support your business?​
We believe the most important element is to choose a partner you trust. If you don't immediately feel they understand your unique situation and they don't go out of their way to really understand your purpose, speak to another. Your reasons for choosing may sometimes be difficult to articulate, however, after speaking you will quickly know which company is best to represent your brand.​
And finally, whilst price is an important element in choosing a supplier, make sure you're calculating all the costs - not just the fee %. The company that delivers you a great shortlist the first time round, who organizes your stakeholders and minimizes wasted time will save you thousands over the course of the project.
Ultimately, the best way to measure us is to speak to us. However, in the meantime here are a number of frequently asked questions that may just help you decide to include us on your shortlist!
We employ numerous strategies when going out to market on behalf of our clients, including:
•Database search: Through our national and international presence, we have an extensive database (over 80,000 resumes) of qualified and capable candidates. This is maintained and improved upon by only adding quality candidates who have been personally screened by Certus's consultants. Candidates who have not been screened are not on Certus's database.
•Social Media: There is great emphasis on driving our presence on such sites as LinkedIn.
•Networking/Referrals: Unlike traditional contingency recruitment companies, Certus employs a 'network and direct contact' approach to source quality candidates that are not available or active in the general market.
•Advertising: Certus advertises across a range of websites from job boards to LinkedIn. Unless requested, our ads are not client-branded and are written so as not to identify the client to the reader.
•Direct Approach (i.e. targeting passive candidates rather than waiting for applications): This has proven highly successful with 67% of our placed candidates in the last 3 years sourced in this manner.
Quickly! Our proactive approach to the recruitment process and ability to reallocate resources means that we can normally deliver a shortlist within a matter of days. Any delay in the recruitment process is usually a result of delays at the client end due to diary issues or indecision. As part of our initial discussion, we work with you to plan the project effectively, dealing with any challenges at the outset, and helping reduce the likelihood of problems and delays.
This depends on many factors including; the role, your budget, location, availability of talent and urgency. We can walk you through the decision-making process and help you determine the best plan for your business.
How you are charged for our services depends on the type of service you require and the level of support you require. Our recruitment services (contingency and retained) are usually charged at a fixed % of remuneration or can be agreed upon on a fixed fee basis. The exact level is dependent on many factors including the guarantee required, payment terms and other factors. Additional services are charged on a project basis depending on the resource required to deliver.
Contact us to explain your current situation and we'd be happy to give you an indicative fee level for you to consider. Alternatively, upload details of your vacancy and we'll contact you to discuss how we would manage your project and all associated costs.
​This is about getting the right balance between being able to thoroughly assess the candidate and giving the candidate enough time to assess you as an employer. The most important consideration is how quickly you can move through those stages. For most role levels up to (but not including) Senior Leadership, the process should ideally move from receipt of CV to offer within 2 weeks. Further considerations:
The best processes are fully planned from the outset, with an agreed number of candidates shortlisted and set dates confirmed in advance for all interview stages.
Ideally, a two-stage process should be sufficient when working with a recruitment partner - three at most. If you require multiple personnel to meet with candidates try to schedule sessions where the candidate is met with 2 or three people in succession, or together. This way you can still limit the number of times the candidate needs to attend.
Ensure prompt feedback (same day as the interview) and never keep a candidate waiting more than 48 hours after the final interview for a final decision. In a candidate short market we'd even suggest trying to reach an agreement within the final meeting. If you have multiple candidates to interview at the final stage (and we would suggest you should not ever have more than three) try to ensure they are scheduled within a 24-36 hour period, otherwise it is proven they will not be judged equally (with the last candidate in having significant advantage!)
Do not ask the candidate to prepare significant presentations or role plays for the first stage. Candidates respond better and generally prepare higher quality work once they have fully committed to the role. This generally happens after they have met their future manager/leader and understand the company's vision and mission.
When you are working with a recruitment partner avoid repeating the steps they've already completed. Your recruitment partner should have assessed that the basic competencies are met and that there is real interest from the candidate. Therefore, conducting a further screening interview will only frustrate the candidate.
The interviewer would ideally be at or above the level of the candidate. Having a senior professional interviewed by a junior team member often sends the wrong message to the candidate and will likely promote a negative feeling.
Don't wait for the perfect candidate - they don't exist. If you find a candidate that meets the majority of your requirements, who demonstrates a real desire to work for your business and is able to evidence their position do not 'keep them warm' whilst waiting for a better candidate. You may well end up with neither!
At Certus Recruitment we are highly experienced in planning recruitment projects based on your particular need and requirement. Once we understand who you need to involve and why, we will be able to create and manage a recruitment project plan that works. In most cases, we can take your project from the initial discussion to offer within 2 - 3 weeks! Contact us now and we'll do this for you.
We are incredibly confident that we will deliver a shortlist of candidates who meet your requirements and that the successful candidate will go on to be successful for your business. However, we're realists and even the best can't get it perfect every time. That's why we offer our clients a 100% guarantee, whereby if a placed candidate leaves your business during the agreed guarantee period we will provide a replacement candidate at no further cost to your business (where the replacement is at a similar level of experience). The exact details of the length of the guarantee period and other factors can be determined once we understand exactly what you're looking for.
How can we offer such a guarantee? Because we closely monitor our success rate and over the last year 96.8% of candidates placed have successfully completed their guarantee period.
The Certus Recruitment Group is a global provider of specialist recruitment solutions. Through our network of offices in the UK, USA & Australia, we can support your recruitment requirement anywhere in the world. Which office will support you will depend on your requirement. Contact us and we'll make sure you talk to the best person to help you.
IR35 is a very important piece of legislation that came into effect in the private sector in April 2021.
If you have contractors operating within your business it is essential that you are prepared or you may find yourself liable for unpaid taxes, penalties and charges at a later date. Please contact us for more information about how we can help you navigate and safeguard your business with relation to this legislation.
We work primarily in the technology sector, working with companies in:
Martech

Fintech

Software & SaaS (Software as a Service)

Data and Analytics

Distributors and VAD's

Resellers and VAR's

Vendors

System Integrators

Managed Service Providers

Internet & Ecommerce
Essentially, we can work with any business within technology so even if your sector is not listed above, do get in touch as we will be able to support you.
If you have any further questions or would like to find out more about how we can help your business grow, we'd love to hear from you. Just pick your preferred way of contacting us and we look forward to speaking with you soon.
Pick up the phone and give us a call on +44 (0) 204 538 8222
Click here and you can send us details of your business and your current vacancies
Send us an email to: info@certusrecruitment.com